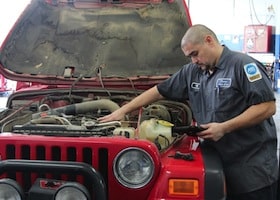 At Davies Auto Care, our experienced mechanics have advanced technology to examine your transmission and pinpoint any issues that need to be fixed. If your transmission has failed and needs to be replaced, our professional team will discuss the options with you, and help you resolve your transmission needs in the most cost effective and efficient way.
If your transmission needs to be replaced, our highly-trained mechanics will disassemble your transmission to find the parts that are broken or are malfunctioning, get rid of those parts, and replace them with new, working parts. They will then reassemble your transmission, so that it will run smoothly and properly. At Davies Auto Care, we aim to do the best job possible for our loyal customers. We value our customers, which is why our goal is to provide you with top-notch service. When you decide what you want to be done for your car, our hard-working mechanics will get right to work.
If your car is experiencing issues with its transmission, don?t wait any longer before it becomes a safety hazard or a more expensive issue! Bring your car into Davies Auto Care today, so that our knowledgeable technicians can diagnose the problem and fix it. We want to help you get safely back on the road again!