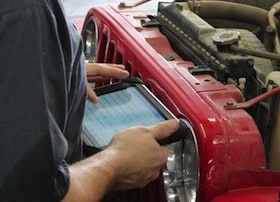 The computer systems in your car can collect and display information related to the functions of all your car parts. Often, when the computer and electronic components in your car are malfunctioning, it can be a sign of other issues. This is why you need the diagnostic skills of the technicians at Davies Auto Care! Our experts can help to figure out exactly what your car needs, and work to solve the problem.
We will take the time to explain the issue to you thoroughly, so that you can make an informed decision about the maintenance of your car?s electronic systems. Our electronic services include:
Computer
Diagnostics
Drivability
Engine Controls
Batteries
Starters & Alternators
Don't neglect your vehicle's electronic systems – trust our experts to repair your vehicle properly the first time around! A poor driving experience can often be related to a malfunctioning computer or driving controls. Come to Davies Auto Care to ensure your vehicle is in top driving condition.