At Davie Auto Care, we care about keeping your vehicle in tip-top shape, so you not only have a smooth, enjoyable ride, but a safe one as well! Tires are an important safety factor for your car because they are the foundation. Yet, they are often overlooked. Even if they don?t get punctured or damaged, they will naturally lose air over time, which is why we recommend having your tire pressure checked once a month.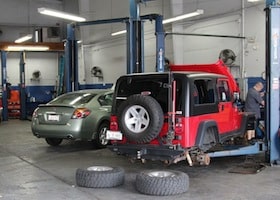 Having your tires inspected by a professional is a good idea since human eyes do not always notice tire irregularities, such as tire tread wear and tear. However, if you pay attention to your car and how it handles, you may be able to suspect a problem before any severe tire damage occurs. When you?re driving and your car rattles abnormally, it could be evidence that your tires are misaligned. Or if your turns are not as responsive, your tires may be low on air, whereas if your ride is excessively bumpy, they may be overinflated. If you want to extend the life of your tires, rotating them every 7,000 miles will be beneficial. Properly inflating your tires will also help improve car functions such as braking and handling as well as improves fuel efficiency. The most common reasons why tires need replacement are if they are damaged or just have had become too old by the normal wear and tear that will eventually become unsafe to drive. We supply different type of tires such as:
All-seasonal
Winter-use
Off-road
Performance
All-terrain
If you suspect an issue with your vehicle?s tires, stop by Davies Auto Care today to have one of our experts check them! Don?t let worn or damaged tires become a safety hazard. We are here to service your car with any of its maintenance or repair needs!