Auto Repair Cathedral City CA
Auto Repair Shop in Cathedral City California
Why Choose Davies Auto Care?
Cathedral City Auto Repair Shop, Oil Changes and Maintenance in Cathedral City CA 92234
Clients Trust Us for Vehicle Auto Repairs & Maintenance
We use the latest technology to assess the situation and offer you alternatives for auto repairs and tune ups. We guarantee all of our work and know you'll be happy with the outcome. All you need is to check out customer reviews and testimonials, to see that we have a sterling track record full of satisfied clients who are now happy with their vehicle's performance plus automotive maintenance.
Our services cover everything related to car problems, including but not limited to smog check, oil changes and oil change service, brake repair, wheel alignment, air conditioning and car AC charging. We have happy customers that trust us for auto care and auto repair. Residents of Cathedral City, Palm Springs, Bermuda Dunes, Rancho Mirage, La Quinta, and Palm Desert trust Davies for their vehicle auto repairs and car care needs.
Stop by our shop in Cathedral City or give us a call at 760-328-6198 to let us know how we can help you! Our customer representatives are on stand by, and we can provide FREE estimates upon request!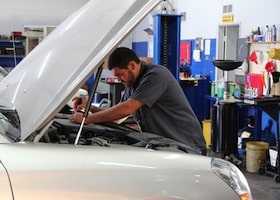 All rights reserved
What Our Cathedral City & Coachella Valley Clients Say
You Don't Have to Take Our Word for It! Here's what our satisfied customers have to say about us!


"Everything about my first time getting work done here was smooth and easy.
They gave me a quote for new brakes, rotors and air conditioning charging. They did the work same-day
and the final price was exactly what they said it would be. And they washed my car!"​
"Went in early in morning to have some ac work.
Dave and crew took me right away and did their checks and maintenance.
Was happy with the service and price. Good and solid repair job."​
"Brought my vehicle in for routine, scheduled maintenance.
Made an appointment as a first time customer.
Got a text message reminder to confirm appointment. Nice Touch."
Everything was explained to me what was done, and what had to be done.
Also parts had to be replaced at no cost to me because they were still under warrant.
Nothing needs to be improved at this time for me.
"I am a longtime member of the "Davies Family" and as a great-grandmother
with significant health issues, knowing that my car
is dependable is of utmost concern. "
I was impressed with the way everyone who entered your office was treated so warmly.
After waiting for three hours for a diagnosis of my car's problems,
I began to feel like part of the family! What an improvement!!
I've never had anybody go the extra mile to keep my car in top shape as Davies does.
All the information about my car is at his finger tips as they document
all the work that they do on your rig( no matter what you drive.)
My cars have been serviced at Davies Auto Care for the past ten years.
I am now 75 years old, and it is so important to have my car taken care of by people I trust.
Dave, Elaine, and their staff make me feel welcome at all times.
Having been in the automobile business myself, I enjoyed your excellent customer service and the workmanship of your technicians. A return to the good ole days when performing
a small task went a long way to enhance the established relationship with the customer.
Get a Service Appointment for Your Auto Repair, Car Needs,
Oil Changes and Maintenance in Cathedral City CA 92234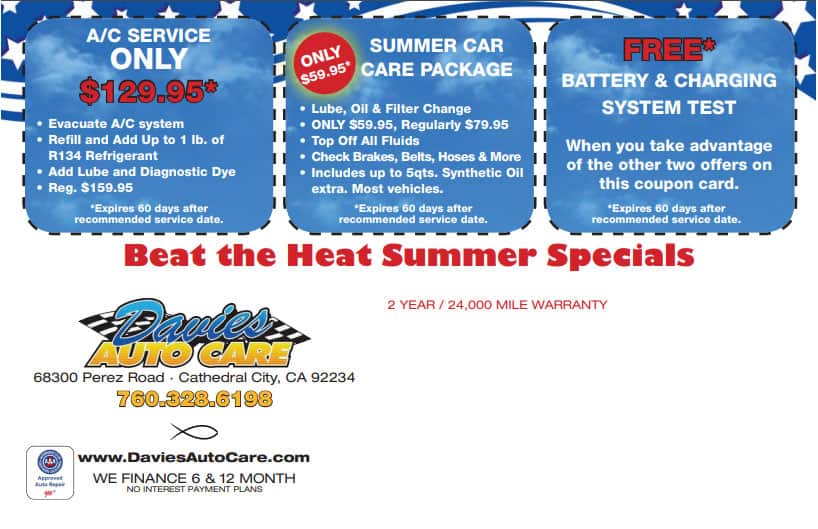 * You can click the button below for a printable copy.