Cathedral City Radiator Repair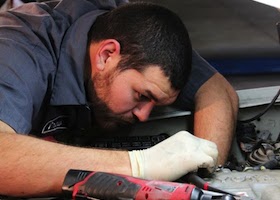 A car's radiator and cooling system can be costly to repair, but there are things car owners can do that will help mitigate the expense. The radiator itself is not a complex component, and most car owners already have an idea of how it works. But neglecting it will have serious consequences for your vehicle. Fortunately, you shouldn't get to that part if you take the time to do a few things designed to prevent your radiator from being broken beyond repair.
For starters, it is common knowledge among longtime car owners that you need to get a radiator coolant flush at least once every two years. You can take your car to Davies Auto Care and we will handle this for you. But before that, do you know what problems will occur if you neglect your radiator and coolant?
The most common cause of problems with radiators is that people tend to forget to check for proper coolant levels. This results in the radiator straining and overheating. Prolonged strain will also corrode the radiator fins. If you value your car, you need to make it a point to check for proper coolant levels on a regular basis, most especially before a long trip. Another problem that could occur is a collapsed bottom radiator hose, which happens when the hose itself has degraded or if the constant expansion and contraction of the coolant. Neglecting the radiator and coolant could affect other parts of the car, and sooner or later other parts will fail. Cathedral city starter replacement will be the least of the car owner's worries in this case.
If your car eventually overheats, one method of cooling down the radiator is to turn on the heater and let it run. It may be uncomfortable, but it will help prolong the life of your radiator in the long run.
Many drivers want to perform radiator and coolant repair from the comfort of their own garage, and while it is definitely possible, it is still safer to just take your car to Davies Auto Care. This way, you can be sure that you will get help from mechanics and technicians who are licensed and with years of experience servicing radiators and coolants. Leaving the dirty work to the experts will usually end up costing less than trying to do all the work on your own.