There are times when vehicle owners feel like they should be working on their cars themselves. While it is always a smarter idea to just take your car to a shop like Davies Auto Care, it is understandable if it?s just a minor repair that feels like it could be a DIY project instead. To help avoid costly mistakes, here are some important car body repair tips:
Safety Comes First in Car Body Repair
Cost is not the only reason why car body repair is better left to the professionals. There?s also the matter of safety. If you plan to do this task by yourself, you need to be prepared when it comes to safety. It?s not just you, but also your family members or any one else that is within the vicinity when you are working on your car. You have to prepare at least the following:
A large-enough working space without any foot traffic ? you don?t want other people constantly walking in the middle of your project, where they could interfere or be put in harm?s way.
Safety glasses ?- when working on a car?s body, you want to protect your eyes from damage
Protective clothing ? this goes with safety glasses. You want to minimize the amount of exposed skin.
Don?t Skimp on the Filler and Mixing Board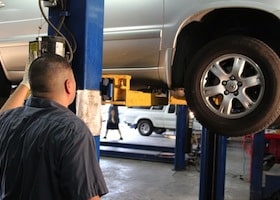 A filler and mixing board is a necessity when it comes to car body repair, since they are the primary tools used for filling in scratches and dents. The problem is that there is ample opportunity to cheap out on these products, because there?s a lot of inexpensive brands out there. Don?t try to be cheap. Use high quality filler and mixing board even if it costs a little bit more. The old adage ?you get what you pay for? applies here. You don?t want to end up with cheap looking results.
Lighting is Important in Car Body Repair
Most car work is done indoors, mostly in a warehouse or a garage. This helps maintain a controlled environment, but it also restricts lighting. So make sure your garage is brightly lit with the right kind of task lighting. Make sure you can see the smallest hairline cracks and scratches before you even start working.
Invest in Proper Equipment
Unless you want to end up with a cheap-looking finish and a car that looks like it came straight out of a junkyard, you should invest in the right equipment. At the bare minimum, you should have:
Compressor
Paint Sprayer
A Sanding Tool
These equipment can add to your expenses, but it?s a must if you want to do a proper job. This is why it?s smarter to leave car body repair to professionals such as Davies Auto Care. You don?t need to spend several hundreds of dollars on equipment that you are probably not going to use regularly, and you also get the benefit of experienced people working on your car. And auto shops guarantee their work, so you don?t need to be worried of anything. All you need to do is wait for the work to be done, so you can go back to driving your car.
If you have need of car body repair, as well as other car maintenance, repair, and vehicle inspection services, contact Davies Auto Care and we will give you a FREE quote.