Auto Repair, Car Care, Oil Changes and Maintenance in Palm Desert CA 92211
Clients Trust Us for Vehicle & Car Care Maintenance
We use the latest technology to assess the situation and offer you alternatives. We guarantee all of our work and know you'll be happy with the outcome. All you need is to check out customer reviews and testimonials, to see that we have a sterling track record full of satisfied and happy clients.
Our services cover everything including but not limited to oil changes and oil change service, air conditioning and car AC charging. We have happy customers that trust us for auto care and auto repair. Residents of Palm Desert, Palm Springs, Rancho Mirage, Cathedral City and the entire Coachella Valley trust Davies for their vehicle and car care needs.
Stop by our shop near Palm Desert or give us a call at 760-328-6198 to let us know how we can help you! Our customer representatives are on stand by, and we can provide FREE estimates upon request!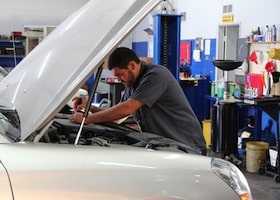 All rights reserved.
What Our Palm Desert & Coachella Valley Clients Say
You Don't Have to Take Our Word for It! Here's what our satisfied customers have to say about us!


"Everything about my first time getting work done here was smooth and easy.
They gave me a quote for new brakes, rotors and air conditioning charging. They did the work same-day
and the final price was exactly what they said it would be. And they washed my car!"​
"Went in early in morning to have some ac work.
Dave and crew took me right away and did their checks and maintenance.
Was happy with the service and price. Good and solid repair job."​
"Brought my vehicle in for routine, scheduled maintenance.
Made an appointment as a first time customer.
Got a text message reminder to confirm appointment. Nice Touch."
Everything was explained to me what was done, and what had to be done.
Also parts had to be replaced at no cost to me because they were still under warrant.
Nothing needs to be improved at this time for me.
"I am a longtime member of the "Davies Family" and as a great-grandmother
with significant health issues, knowing that my car
is dependable is of utmost concern. "
I was impressed with the way everyone who entered your office was treated so warmly.
After waiting for three hours for a diagnosis of my car's problems,
I began to feel like part of the family! What an improvement!!
I've never had anybody go the extra mile to keep my car in top shape as Davies does.
All the information about my car is at his finger tips as they document
all the work that they do on your rig( no matter what you drive.)
My cars have been serviced at Davies Auto Care for the past ten years.
I am now 75 years old, and it is so important to have my car taken care of by people I trust.
Dave, Elaine, and their staff make me feel welcome at all times.
Having been in the automobile business myself, I enjoyed your excellent customer service and the workmanship of your technicians. A return to the good ole days when performing
a small task went a long way to enhance the established relationship with the customer.
The Best Auto Service for Car Owners in the Desert City
Davies Auto Care excels at providing auto services to Palm Desert vehicle owners. We offer all manner of automotive care, covering engines, brakes, air conditioning, tires, gas tanks, electrical, and more. Our certified and experienced technicians have years of experience working on various makes and models of cars. We also have access to specialized tools and documentation that let us provide great service to all manner of auto vehicles.
The Only Auto Shop You Will Ever Need
We make it a point to provide the kind of service car owners expect, ensuring that every single car that leaves our shop is running smoothly and efficiently. We care deeply about providing customers with excellent service, and want every single one of them to come back to us in case they need maintenance and repairs in the future. We are the one stop auto shop to visit when they have car or engine troubles.

Customer Service and Technical Expertise
Our mechanics are well-versed in customer service. They can inspect and assess your car if it needs repairs or just maintenance, and can easily explain the problems while discussing possible options. We will not overwhelm you with jargon or sleight of hand. Everything is made clear, and you will always understand what kind of auto repair service you are getting.
Davies Auto Care's Expert Mechanics are Always Here to Help
So if your car needs a repair, a tune-up, or a check-up, there is no other place to go to for auto repair services but Davies Auto Care. Visit us and talk with our experts. We are more than happy to answer any questions you have. Our goal is to keep your car in tip-top shape, so that you can drive safely and keep your loved ones safe.
Palm Desert is a city in Riverside County, California, United States, in the Coachella Valley, approximately 11 miles (18 kilometers) east of Palm Springs. The population was 48,445 at the 2010 census, up from 41,155 at the 2000 census. The city was one of the state?s fastest growing in the 1980s and 1990s, beginning with 11,801 residents in 1980, doubling to 23,650 in 1990, 35,000 in 1995, and nearly double its 1990 population by 2000.
A major center of growth in the Palm Springs area, Palm Desert is a popular retreat for ?snowbirds? from colder climates (the Eastern and Northern United States, and Canada), who swell its population by an estimated 31,000 each winter. In the past couple of years Palm Desert has seen more residents become ?full-timers?, mainly from the coasts and urban centers of California, who have come for affordable but high-valued home prices.


The area was first known as the Old MacDonald Ranch, but the name changed to Palm Village in the 1920s when date palms were planted. Local historians said the main residents of pre-1950 Palm Desert were Cahuilla Indian farmers of the now extinct San Cayetano tribe, but a few members of the Montoya family of Cahuilla/Spanish descent were prominent leaders in civic life. The first residential development occurred in 1943 in connection with an Army maintenance camp in the area. That site was later developed into ?El Paseo?, an upscale shopping district not unlike Rodeo Drive. In 1948, the Palm Desert Corporation began to develop real estate, and in 1951 the area was given its present name.


The climate of the Coachella Valley is influenced by the surrounding geography. High mountain ranges on three sides and a south-sloping valley floor all contribute to its unique and year-round warm climate, with the warmest winters in the western United States. Palm Desert has an arid climate: Its average annual high temperature is 89 degrees Fahrenheit (32 degrees Celsius) and average annual low is 62 degrees Fahrenheit (17 degrees Celsius) but summer highs above 108 degrees Fahrenheit (42 degrees Celsius) are common and sometimes exceed 120 degrees Fahrenheit (49 degrees Celsius), while summer night lows often stay above 82 degrees Fahrenheit (28 degrees Celsius). Winters are warm with daytime highs between 73?84 degrees Fahrenheit (23?29 degrees Celsius). Under 5 inches (130 milimeters) of annual precipitation are average, with over 348 days of sunshine per year. The mean annual temperature at 75.8 degrees Fahrenheit (24.3 degrees Celsius) makes Palm Desert one of the warmest places in the United States. The surrounding mountains create a Thermal Belt in the southern foothills of Palm Desert leading to a unique micro-climate with significantly warmer night-time temperatures during the winter months. The University of California maintains weather stations located in this Thermal Belt as part of their ecological project in the Boyd Deep Canyon Reserve. The hottest temperature ever recorded in Palm Desert was 125 degrees Fahrenheit (52 degrees Celsius) on July 6, 1905.


According to the United States Census Bureau, the city has a total area of 27.0 square miles (70-square-kilometers), of which, 26.8 square miles (69-square-kilometers) of it is land and 0.2 square miles (0.52-square-kilometers) of it (0.76%) is water. The elevation (City hall) is 224 feet (68 meters) above sea level. Elevations vary from the lower northern half once covered in sand dunes to the upper slope southern cove (300?900 feet/91?270 metres) all the way to the ridgeline at 1,000 feet (over 300 meters). Palm Desert is located in the Coachella Valley, the north-western extension of the Sonoran Desert. Sun City Palm Desert, California lies on the northern side of Interstate 10 from Palm Desert itself, but is unincorporated and not part of the City of Palm Desert (the original name was Sun City Palm Springs from 1991 to 1996).


We Finance 6 & 12 Month No Interest Upon Approval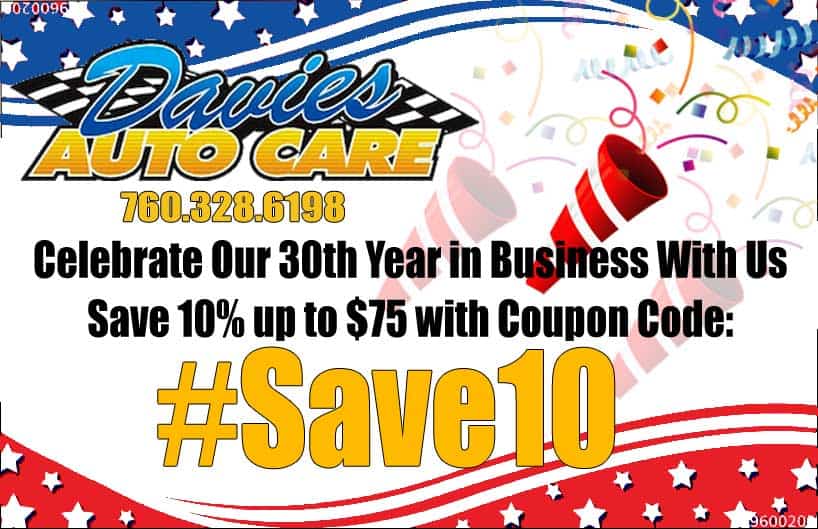 * You can click the button below for a printable copy.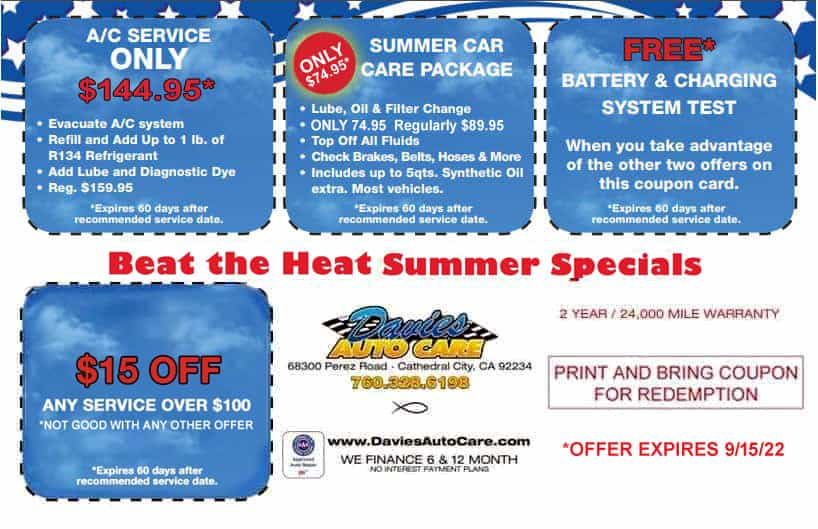 * You can click the button below for a printable copy.