Auto Repair, Car Care, Oil Changes and Maintenance in Palm Springs CA 92240
Clients Trust Us for Vehicle & Car Care Maintenance
We use the latest technology to assess the situation and offer you alternatives. We guarantee all of our work and know you'll be happy with the outcome. All you need is to check out customer reviews and testimonials, to see that we have a sterling track record full of satisfied and happy clients.
Our services cover everything including but not limited to oil changes and oil change service, air conditioning and car AC charging. We have happy customers that trust us for auto care and auto repair. Residents of Palm Desert, Palm Springs, Rancho Mirage, Cathedral City and the entire Coachella Valley trust Davies for their vehicle and car care needs. 
Stop by our shop near Palm Springs or give us a call at 760-328-6198 to let us know how we can help you! Our customer representatives are on stand by, and we can provide FREE estimates upon request!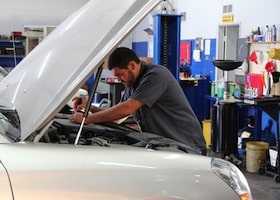 All rights reserved
What Our Palm Springs & Coachella Valley Clients Say
You Don't Have to Take Our Word for It! Here's what our satisfied customers have to say about us!


"Everything about my first time getting work done here was smooth and easy.
They gave me a quote for new brakes, rotors and air conditioning charging. They did the work same-day
and the final price was exactly what they said it would be. And they washed my car!"​
"Went in early in morning to have some ac work.
Dave and crew took me right away and did their checks and maintenance.
Was happy with the service and price. Good and solid repair job."​
"Brought my vehicle in for routine, scheduled maintenance.
Made an appointment as a first time customer.
Got a text message reminder to confirm appointment. Nice Touch."
Everything was explained to me what was done, and what had to be done.
Also parts had to be replaced at no cost to me because they were still under warrant.
Nothing needs to be improved at this time for me.
"I am a longtime member of the "Davies Family" and as a great-grandmother
with significant health issues, knowing that my car
is dependable is of utmost concern. "
I was impressed with the way everyone who entered your office was treated so warmly.
After waiting for three hours for a diagnosis of my car's problems,
I began to feel like part of the family! What an improvement!!
I've never had anybody go the extra mile to keep my car in top shape as Davies does.
All the information about my car is at his finger tips as they document
all the work that they do on your rig( no matter what you drive.)
My cars have been serviced at Davies Auto Care for the past ten years.
I am now 75 years old, and it is so important to have my car taken care of by people I trust.
Dave, Elaine, and their staff make me feel welcome at all times.
Having been in the automobile business myself, I enjoyed your excellent customer service and the workmanship of your technicians. A return to the good ole days when performing
a small task went a long way to enhance the established relationship with the customer.
The Best Auto Service for Car Owners in the Desert City
Davies Auto Care excels at providing auto services to Palm Springs vehicle owners. We offer all manner of automotive care, covering engines, brakes, air conditioning, tires, gas tanks, electrical, and more. Our certified and experienced technicians have years of experience working on various makes and models of cars. We also have access to specialized tools and documentation that let us provide great service to all manner of auto vehicles.
The Only Auto Shop You Will Ever Need
We make it a point to provide the kind of service car owners expect, ensuring that every single car that leaves our shop is running smoothly and efficiently. We care deeply about providing customers with excellent service, and want every single one of them to come back to us in case they need maintenance and repairs in the future. We are the one stop auto shop to visit when they have car or engine troubles.

Customer Service and Technical Expertise
Our mechanics are well-versed in customer service. They can inspect and assess your car if it needs repairs or just maintenance, and can easily explain the problems while discussing possible options. We will not overwhelm you with jargon or sleight of hand. Everything is made clear, and you will always understand what kind of auto repair service you are getting.
Davies Auto Care's Expert Mechanics are Always Here to Help
So if your car needs a repair, a tune-up, or a check-up, there is no other place to go to for auto repair services but Davies Auto Care. Visit us and talk with our experts. We are more than happy to answer any questions you have. Our goal is to keep your car in tip-top shape, so that you can drive safely and keep your loved ones safe.
Palm Springs is a desert resort city in Riverside County, California, within the Coachella Valley. It is located approximately 37 miles (60 kilometers) east of San Bernardino, 111 miles (179 kilometers) east of Los Angeles, 136 miles (219 kilometers) northeast of San Diego, and 269 miles (433 kilometers) west of Phoenix, Arizona. The population was 44,552 at the 2010 census. Golf, swimming, tennis, horseback riding, biking, and hiking in the nearby desert and mountain areas are major forms of recreation in Palm Springs.
The city became a fashionable resort in the 1900s when health tourists arrived with conditions that required dry heat. In 1906 naturalist and travel writer George Wharton James's two volume The Wonders of the Colorado Desert described Palm Springs as having ?great charms and attractiveness:278?281 and included an account of his stay at Murray's hotel. As James also described, Palm Springs was more comfortable in its microclimate because the area was covered in the shadow of Mount San Jacinto to the west and in the winter the mountains block cold winds from the San Gorgonio pass. Early illustrious visitors included John Muir and his daughters, U.S. Vice President Charles Fairbanks, and Fanny Stevenson, widow of Robert Louis Stevenson; still, the hotel was closed in 1909 and torn down in 1954.
Similar to the pre-war era, Palm Springs remained popular with the rich and famous of Hollywood, as well as retirees and Canadian tourists. Between 1947 and 1965, the Alexander Construction Company built some 2,200 houses in Palm Springs effectively doubling its housing capacity. As the 1970s drew to a close, increasing numbers of retirees moved to the Coachella Valley. As a result, Palm Springs began to evolve from a virtual ghost town in the summer to a year-round community. Businesses and hotels that used to close for the months of July and August instead remained open all summer. As commerce grew, so too did the number of families with children. The recession of 1973?1975 impacted Palm Springs as many of the wealthy residents had to cut-back on their spending. While Palm Springs faced competition from the desert cities to the east in the later 1980s, it has continued to prosper into the 21st century.
Tourism is a major factor in the city?s economy with 1.6 million visitors in 2011. The city has over 130 hotels, numerous bed & breakfast inns and over 100 restaurants and dining spots. In the economic recession of the late 2000s/early 2010s, Palm Springs is revitalizing its Downtown or the Village. Rebuilding started with the demolition of the Bank of America building in January 2012, with the Desert Fashion Plaza scheduled for demolition later in 2012. The movement behind Mid-Century modern architecture (1950s/60s era) in Palm Springs is backed by architecture enthusiasts, artistic designers and local historians to preserve many of Central Palm Springs? buildings and houses of famous celebrities, businessmen and politicians.
Palm Springs has a mostly hot, and usually dry climate, with over 300 days of sunshine and around 4.83 inches (122.7 milimeters) of rain annually. The winter months are warm, with daytime highs often between 73 degrees Fahrenheit and 86 degrees Fahrenheit (23?30 degrees Celsius) and corresponding nighttime lows of 50 degrees Fahrenheit to 60 degrees Fahrenheit (10?16 degrees Celsius) while the coolest days tend to average from 62 degrees Fahrenheit to 71 degrees Fahrenheit (17?22 degrees Celsius), and corresponding nights falling to the mid 40 degrees Fahrenheit (7?9 degrees Celsius). The lowest temperature recorded is 19 degrees Fahrenheit (?7.2 degrees Celsius), on January 22, 1937. Summer often sees daytime temperatures between 106 degrees Fahrenheit (41.1 degrees Celsius) and 112 degrees Fahrenheit (44.4 degrees Celsius), with overnight lows ranging from 77 degrees Fahrenheit (25.0 degrees Celsius) to 90 degrees Fahrenheit (32.2 degrees Celsius). The mean annual temperature is 74.7 degrees Fahrenheit (23.7 degrees Celsius). There are 180 days with a high reaching 90 degrees Fahrenheit (32.2 degrees Celsius), and 100 degrees Fahrenheit (37.8 degrees Celsius) can be seen on 116. The highest temperature on record in Palm Springs is 123 degrees Fahrenheit (50.6 degrees Celsius), recorded on several occasions. A low of 105.1 degrees Fahrenheit (40.6 degrees Celsius), was recorded on July 13, 1985, one of the highest nighttime lows recorded on earth.
We Finance 6 & 12 Month No Interest Upon Approval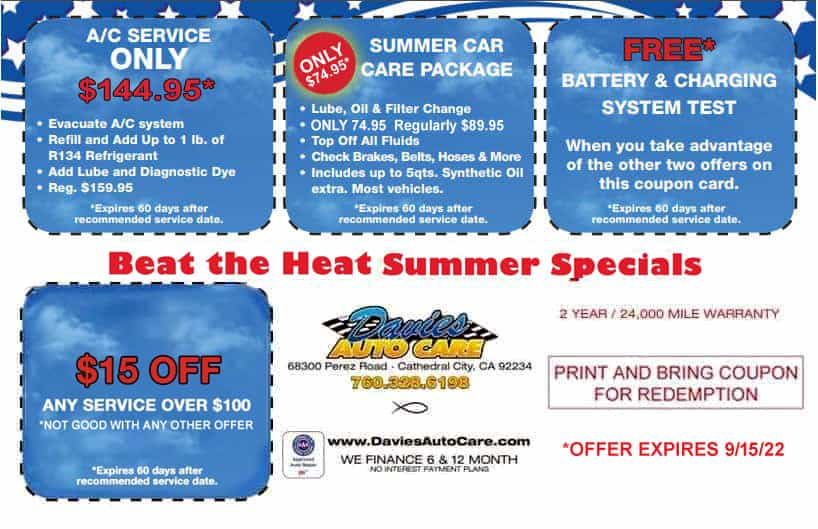 * You can click the button below for a printable copy.