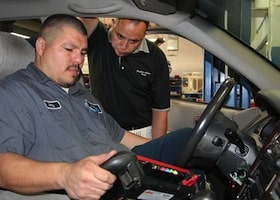 It is common knowledge that California is one of the warmer states in the country. And for those of us in Cathedral City, a fully working car air conditioner will make the difference between a pleasant drive around town and a hellish journey towards a destination. Fortunately, car owners who have problems with their car AC will always have Davies Auto Care to run to. We can restore any ailing car air conditioner to its original state, and save you from the brutal heat of driving with a broken car air conditioner.
Many car owners don't exactly know how an air conditioner works, or don't have the knowledge and expertise needed to repair one. Davies Auto Care's technicians and mechanics have training in car air condition servicing, so we can explain to customers exactly what is wrong with their car AC, as well as give tips on how to avoid the same problem in the future. We can guarantee that we can fix your AC problems the first time around.
One of the more common problems car ACs encounter is low refrigerant pressure. The solution for this is usually something as simple as a recharge AC refrigerant service. But sometimes low refrigerant pressure comes from a leak somewhere in the car AC system, in which case the mechanic needs to look at other parts of the car. Car owners can do spot checks on their own, by checking the condenser, compressor, fittings, and hoses for signs of grime or oil build-up. There are refrigerants that add ultraviolet dye, making it easier to see leaks because of the greenish tint it leaves.
Another issue car owners should watch out for is a failing compressor. This could happen from the compressor shedding pieces of itself, which end up in the condenser, hoses, evaporator, accumulator, and other parts of the AC system. The end-result is a build up of parts and refrigerant that will kill the compressor if not removed. Signs of this kind of problem include strange knocking or ticking sounds when you open the air conditioner. Squealing sounds are also indicative, and you should bring your car to Davies Auto Care so that we can fix your ailing car AC.
If your air conditioner simply needs its freon topped up, Davies Auto Care can also help you. We can handle any type of air conditioner, whether it is using the new eco-friendly R134A system or the older r12 Freon. We also provide other automotive services, including cathedral city radiator repair. So drop by our shop anytime you need some help with your car air conditioner, or contact us first to set up an appointment.