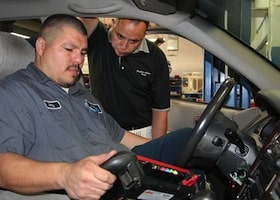 We at Davies Auto Care believe that the more you know about your car, the better you will be at maintaining it. And while we do offer the best power steering repair in Cathedral City and nearby areas, we still recommend understanding some basic facts about your steering system. This will allow you to better take care of your car and lengthen its lifespan.
For starters, you need to know that the power steering system is reliant on two mechanisms. Both are designed to make I t easier for you to steer the vehicle, without requiring too much strength or losing control. These two components are called the power steering pump and the rack & pinion. These two parts work in tandem in order to keep your power steering system healthy for years into the future.
Power Steering Pump – this component relies on hydraulic pressure delivered by a series of hoses. The pressure controls the rack and pinion. Maintenance for this component involves checking for leaks and maintaining the right level of power steering fluid.
Rack and Pinion – this is the component responsible for turning the wheels of the car. Problems with this component come from lack of hydraulic pressure, which means the rack and pinion will suffer under extreme amounts of strain and result in wearing out early.
Even if you take good care of your power steering system, both the power steering pump and rack & pinion will eventually wear out. Proper maintenance means that you won't have to worry about it for a long time, but when the time comes, you need to be on the look out for a few telltale signs:
Squealing during ignition – if your car makes a squealing noise during startup or when driving at low speeds, there may be problems with the belt that drives the power brakes pump.
Steering wheel is too stiff or loose – changes in the difficulty of of steering can indicate that something is wrong with the power steering system. In most cases, all that is needed is more power steering fluid. But it can also mean that there's a leak somewhere in the system, which needs to be addressed ASAP.
Slipping – an erratic behavior during power steering is a sure sign of a problem, and a dangerous one at that because it could lead to fatal accidents.
Another important factor that needs to be considered is that the power steering system can take on damage if there is an impact, such as running over a large pot hole or hitting a curb. This could lead to the rack & pinion getting misaligned. It can happen during everyday driving, and must be addressed as soon as possible before the whole system is affected.
It can be difficult to do maintenance of the power steering pump on your own, because it is generally run by the serpentine belt. You need qualified technicians and mechanics that you can trust, like Davies Auto Care. If you experience any problems with your power steering system, or other parts like the Cathedral City air filter change, drop by our shop and we will be glad to help you with your power steering troubles.